A very special entry...
I guess inilah pertama kali, dalam blog ini, saya melakukan email interview. Inspirasi dari blogger gigih Lea yang baru baru ini dinobatkan sebagai Miss World 2006 di ibu kota minggu lalu.
Lea Laurielle Lai Lee Abdullah @ LKY @ Lea, nama yang tidak asing lagi dalam dunia ratu-ratuan adik-adik di Kuala Lumpur. Walaupun menyepikan diri selama dua tahun sebelum membuat comeback pada IQP pertengahan tahun ini, beliau sangat gigih menghiburkan pembaca blog beliau. Beliau jugalah yang memulakan Bloggers Idol pada tahun lepas dan di ulang buat kali kedua tahun ini.
Saya mengenali LKY sejak tahun 1998 lagi dan menyaksikan Debut Lea didalam arena ratu-ratuan pada tahun 2000 (kalau tak silap penulis) semasa Miss Teen KJ, dimana beliau menjadi RATU KJ bagi tahun berkenaan. Dari situ, beliau tidak lagi menoleh kebelakang dan terus mara memasuki pelbagai ratu-ratuan dan juga menjadi seorang showgirl yang berkaliber di kelab-kelab sekitar Kuala Lumpur. Sila ke
blog
beliau untuk mengetahui kisah hidupnya sebagai SHOWGIRL dan kisah RATU RATUAN beliau.
Dibawah ini merupakan 10 soalan yang telah saya emailkan kepada beliau berkenaan kemenangan beliau sebagai Miss World 2006.
Fakta Menarik
Nama Peserta :
Lealaurielle De La Neuvirra Es' Parta
Negara:
Venuzuela
Pekerjaan:
Menjalankan perniagaan keluarga
Make Up Artist:
Kak V
Stylist:
Volks@301
Subsidiary Title:
Miss Body Beautiful
National Costume:
Rekaan sendiri
Evening Dress:
Tajaan Romzy Studio
Tahun mula aktif:
2000
Pencapaian:
Miss Teen KJ 2000, Miss Malaysia 2004, Miss World 2006.
From: fifth_e taib
fifth.e@gmail.com
To: Lea Laurielle Lai Lee
lea_laurielle@yahoo.com
Sent: Monday, November 27, 2006 10:58:45 AM
Subject: 10 soklan 4 u
Di harap pihak Cik sudi menjawab beberapa soalan untuk dibuat pengisisan dalam blog saya. Terima kasih.
10 soalan utk Miss World **bragging is allowed *matilamak
1.
What one word expresses your feelings when you were announced MW 06?
Completely-stunned-shocked-excited; with that "-" after each word, would it still be considered as one word? LOL
!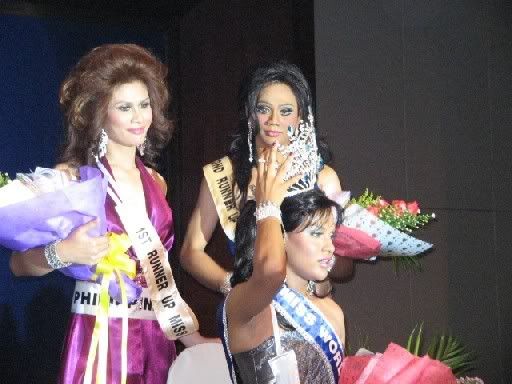 2.
How and what was your preparation upon entering this pageant?

I'd have to say other than preparing my dresses for my national costume and my evening dress, I was up for preparing for my IQ round if I were to announced as one of the lucky top tenners. Wouldn't want to repeat the same mistakes that I did in IQP2006 again - and so I prepared myself for this MW2006. Besides that, my national costume, the corset part - I did the bead works, diamonds and furry fur fur add ons on my own... :) And not to forget the diamontes on my evening dress as well - with the help of UG of Romzy's Studio who sponsored my Evening Dress... :D

3.
Did you expect to win the title?
Honestly, I did not expect to win or even be in the top 3 finalists as I believe the rest of the contestants, they were highly qualified and smart, beautiful and naturally talented to be as the top 3 as well. I was routing for India, Thailand and Spain for the final 3. But I guess HE gave me that chance to feel the limelight, once again - for the final time... :)

4.
Define your winning in 10 words
Unexpectedly, surprised, shocked, stunned, touched, honored, happy, proud, great, and FINALLY! Hahaha!

5.
Define your National Costume in 5 words
Cheeky, Latino, Fresh, Different, GEDIK! :D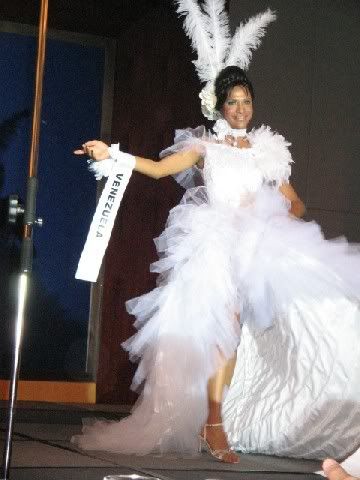 6.
Define your Evening Dress in 5 words
Elegant, Millennium -silver-colored, Rich, Different, Classically-sweet! ;)
7.
Define your make up in 5 words
Tanned, Shimmering, Eye-focused, Latino, Lots-of-shading - LOL!!!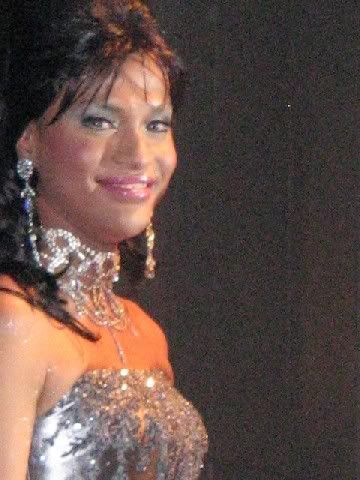 8.
To what extent did you think when the judges picked you as Miss Body Beautiful?

I think each and every one of the judges have their own specific requirements when it comes to judging the contestants for anything, not just for the title Miss Body Beautiful (the one which I won). But I think what made me won that night, in my humble opinion would be because of my legs and the curves (die lah padding! HAHAHAHA)

9.
Do you think that subsiadiary title was a stepping stone towards the 5 kg crown?

Honestly, no - I do not at any second thought that subsidiary title will make me a winner. At some point, some winners do not even need to win any subsidiary titles.
10.
What have you got to say for yourself as Miss World 06?

All I have to say for myself, as the new Miss World 2006 is - I've worked my butts out for this, went thru pains at gym and dieting, and it worked! I've got what I've always wanted (even though I wasn't EXPECTING anything), and with that, I bid myself goodbye in the Beauty Pageant world - this MW2006 will be my last pageant, EVER. I started this beauty pageant world with a first-timers'-luck victory at Miss Teen World 2001 a.k.a Miss KJ 2001, and so I end it, also with another victory, at Miss World 2006 - WORLD PEACE!
*Gambar-gambar dari koleksi
Volks@301
Lea,
Im so proud of you and I am ever so happy for you winning the title yang you dok idam-idamkan selama ini. Apa sekali kata orang, always trust your instincts FIRST. Dont let any words hurt you *tetibe lak.. MOTIF??. I am so lucky to know a MISS WORLD like you. Apa apa pun, walaupun I was not there to experience the euphoria of your winning, I felt it when I talked to you on th ephone via Nory's hp. God is Great :) Good Luck to you MW 06 for the coming year, before you crown another lucky girl.
END

Jazakallahu Khair