Tak ku sangka Rezkiku murah....
1st of all, I have to personally thank
Abang Badrul
for the tickets utk Finals Konsert AF 4 malam tadi. It was an unexpected as I was planning with Volks on where shud we be watching the finals. So, to Abang Bad,
Jazakallahu Khair
to you.
ramai sungguh manusia di Jalil Hill itiew...

Me and Volks was actually usha-ing this new bridal shop in Puchong when he received a call from Abang Badrul, a famous blogger. It was already 5.30pm and we had to be there before 730 pm! so, we rushed back to KJ and me back to Sect 17, got ready ala kadar (ya ka?!) and went back to KJ to fetch Volks, then bak felesit yang melu melu membawa kereta kiew ke Jalil Hill. Got there on time, got the tickets and went straight in, dan paling tak sangka, duduk kat
ARENA
*matila CAMERA SHY... hehehe... Wonder y cameraman tu dok amik belah kami sajor.. hmmm... hikhikhik.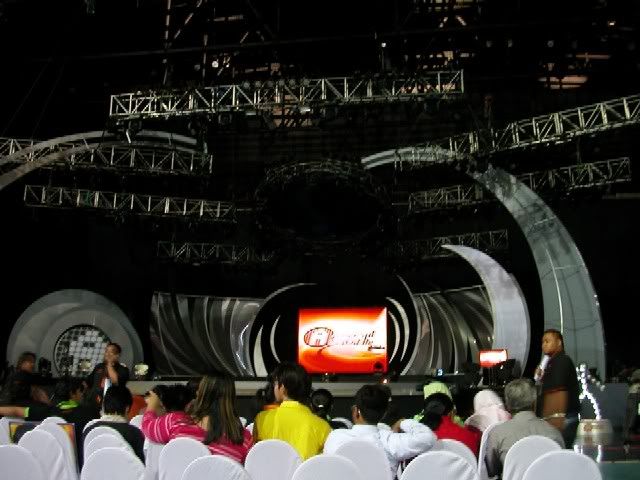 Gambaq stage dari tompek duduk eden *matila rojak* ni tak edit2 tau gambaq ni..sebelum stage tu di light up kan.

me and Volks tgh tggu konsert AF4 Finals bermula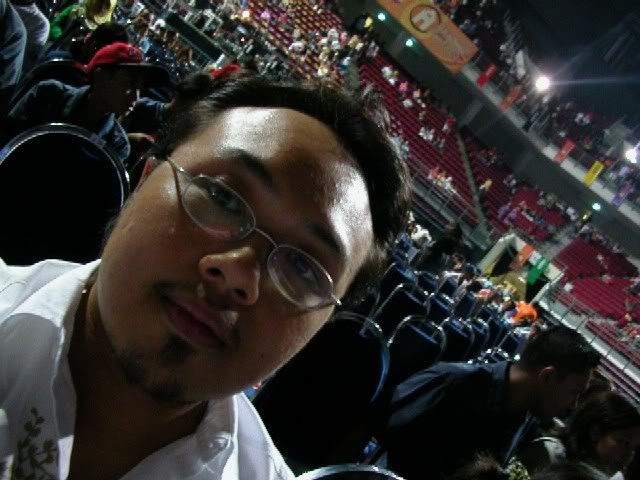 tak sangka dapat dok just a few rows dari stage... hengatkan teketnye dok kat belakang tu hah...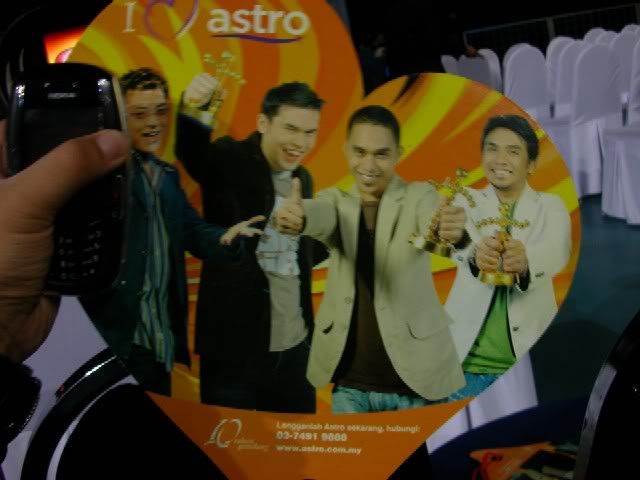 Supplied with hand props... hik.. ehem.. nokia sabun siapa tatau?!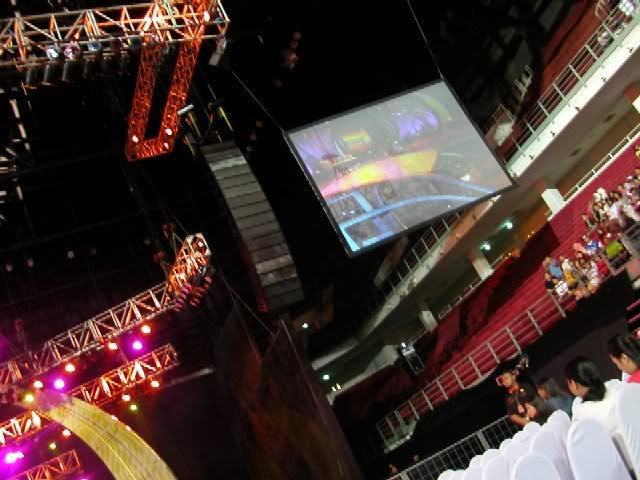 ado jugak screen dalam stadium ni...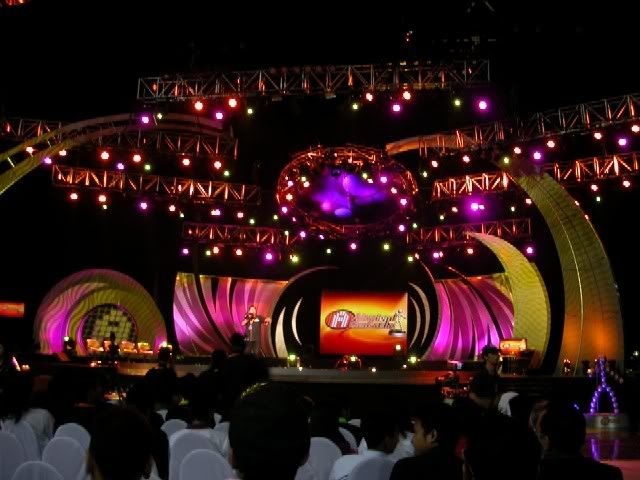 Stage yang telah di light up kan.. zast sgt.. aura nye lain dari tengok kat TV di umah... lain sangat.. *matila kehidupankiew*
Tu semua production team dok bergambaq sakan sebelum show mula. Depa ni la orang2 kuat AF4.
Without them, takdaklah kita tgk diari, imbasan n konsert....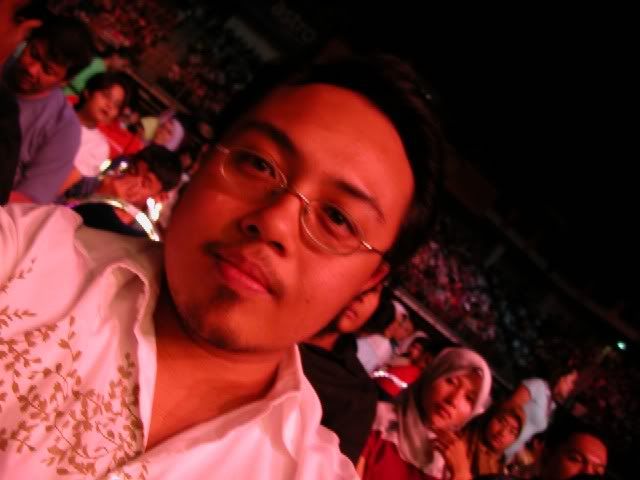 So I guess semua dah tahu results kan?
Faizal
is
new champ
, 1st runner is Lotter and
2nd runner is Farhan
(GO GURL!) and the following places belonged to Haziq and Velvet.
As for me
Farhan
was the
REAL STAR
malam tu
sebab ability and talent dia
, tapi choice of lagu SPAIN tu... TAK SESWAI la, crowd takleh masuk and lagu tak familiar, it should have been a Salamiah Hassan number or Saloma number - barula audience leh participate. Sebagai Pengundi, I AM GLAD TO HAVE VOTED FOR YOU!!! mrasalah TOP 3! hehe.
I believe that Farhan would go far in the industry and there would be shows already waiting for her. Good luck Farhan!
as for Faizal, Mung tahu dok? tanggungjawab mung making besa? mung kene la jaga segala serba serbi dari hidup peribadi mung hingga la ke kehidupan sehariang mung sebak oram akang dok tengok mung sokmo.. mu nok senyum sokmo, mu semyum lah.... hiks
.. GOOD LUCK 2 U too.
Bab baju2 pula, I LOVEEEEE the brown and turquoise lace dress yang Farhan pakai, also Velvet's number 2 dress, yang black number with the slits.. kalau takdak slit pun takpe actually. Baju Haziq yang last tu pun i suke, very my taste and the songkok does all the difference.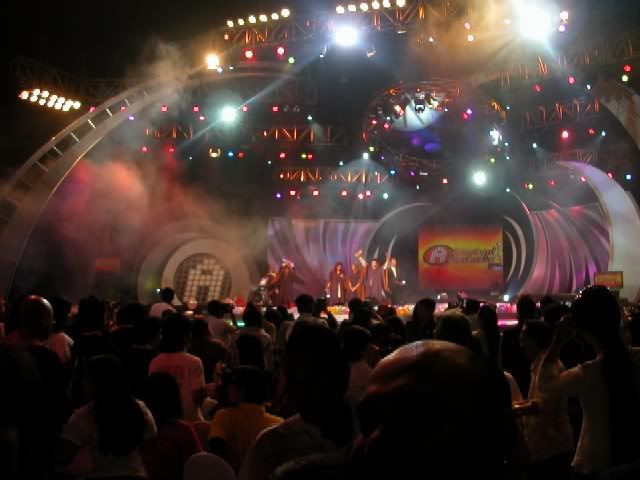 ni lopeh announcement pemenang... erm siapa in foreground tatau?! hikhik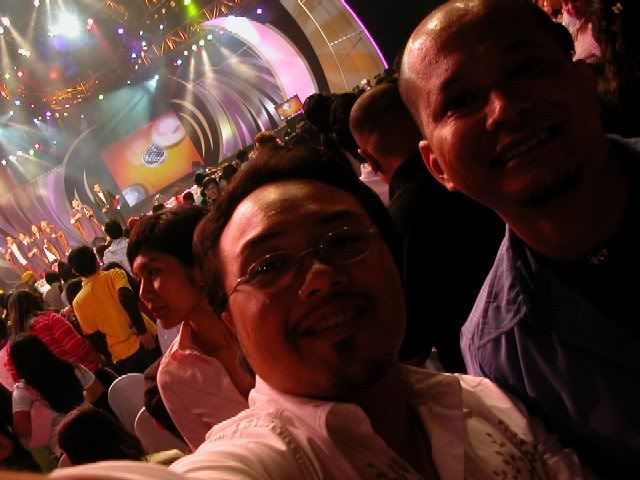 meraikan kemenangan Farhan walupun 2nd runner up.. SECOND RUNNER UP KAH??? mrasa la Lea knows how Farhan feels *LARIIIIII pastu nyorok bawah sofa merah*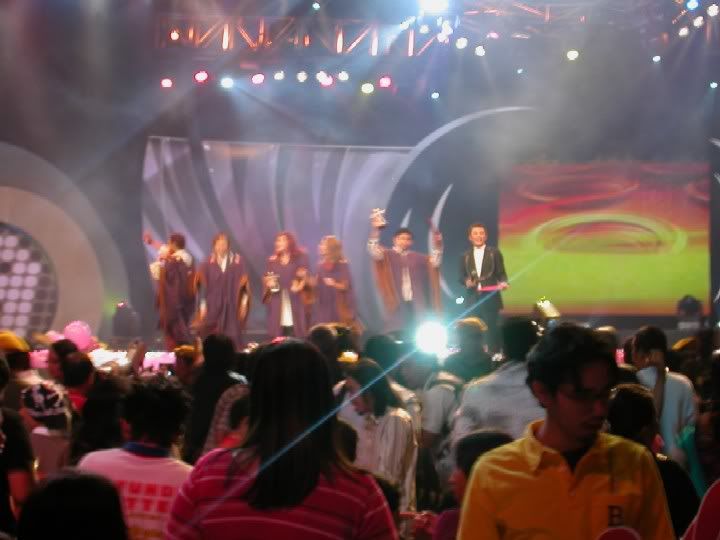 ni pule lepas announcement penutupan sidang belajaq kat akademi.. tampak mereka celebrate rezeki mereka... Alhamdulillah.
Masa ni semua dok kerumun depan stage nak hambek gambaq bagai.. mrasa mrasa, me and Volks terus chow dan singgah di A&W PJ for supper and head off home...
Jazakallahu Khair